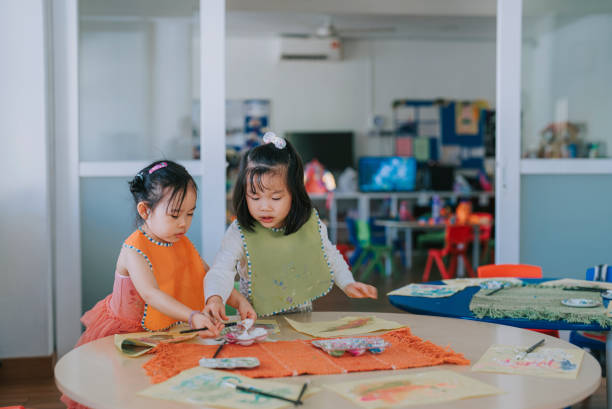 Global Sevilla Preschool Jakarta focuses on providing teaching through purposeful play by carrying out an international early years curriculum. It aims to make students have fun activities but can still develop their abilities. Improve literacy skills, numeracy knowledge, and also creativity to understand the world.
The Learning Materials in Global Sevilla For Preschool
Activities for Toddlers
At the age of 1.5-2 years, kids are focused on getting acquainted with basic skills that are easy to understand. For example, recognizing colors, shapes, and also good habits that students can apply in everyday life. Moreover, kids at this age are also invited to do small things such as counting, playing together, and much more.
Activities for Pre-Nursery
The kid who is aged 2-3 years is introduced to interesting games that use sensory and motor nerves. The students of Global Sevilla Preschool Jakarta will be invited to do fun activities such as making simple works of art, learning simple reading, and other activities that can build their sensory and motor nerves.
Activities for Nursery
At the age of 3-4 years, kids are more encouraged to build confidence by developing their speaking skills. It affects their self-awareness, and it needs to be supported by balanced self-confidence. Activities carried out at this age are playing while learning through songs, rhymes, and games.
Activities for Kindergarten Level 1
The preschool will fully support kids aged 4-5 years to develop their talents and interests in something. It aims to build their potential that can be useful for the future. In addition, students will also introduce to activities that are more complicated but still interesting through game-based learning.
Activities for Kindergarten Level 2
At the age of 5-6 years, Global Sevilla Preschool Jakarta students will begin to have more advanced abilities activities. They begin to develop their talents, and interests become more complex. Their logical thinking patterns and motor skills improve, so they are given activities with a higher level of difficulty to challenge their abilities. It aims to encourage kids to think logically in solving problems or challenges in their life.
Seeing the learning materials given to kids in this preschool, parents can ensure that the learning process runs well and is interactive for kids. Kids will not be bored while studying at this high-quality preschool through playing and learning activities. According to that, parents can consider the Global Sevilla Preschool as the right school option for their child.